Special restrictions are put in place for handling valuable items.
Handling of valuable items
Please carry valuable items with you onto the aircraft.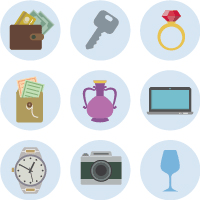 Valuable articles, including cash, jewelry, securities, works of art and antiques, and fragile articles, including personal computers, watches, cameras, glass articles,

should not be included in your checked baggage.


These articles should be carried on board by the passenger and kept secure.
Skymark Airlines is not liable in the event of damage such as breakage or loss to these items.
The maximum amount of compensation for baggage or personal items with no declaration of value is up to JPY150,000- per person. If a damaged article is over JPY150,000-, the declared price will be regarded as the maximum amount of compensation only in cases where an additional charge was paid, which is JPY10- per JPY10,000- for any amount exceeding JPY150,000-. The amount of compensation can never exceed the actual price of the damaged article. Please note that this system is applicable only when our company is liable, and is not an insurance policy.
Please note that although adequate precautions will be taken in their handling, Skymark Airlines is not liable for defects owing to baggage itself, such as ones from normal wear and tear, loss of protruding parts, such as detachable straps, handles and name tags, and minor damages, such as cuts, scuffs, dents and dirt.
If you carry fragile articles, such as musical instruments, etc. or precision instruments on board, a separate seat for the article must be purchased. Please pack and keep them on your own account. For more details, please contact Skymark Airlines Reservation Center.